Dan Magness
Details | Media clips | Contact
Latest news!
Two more world records for Dan, on live TV!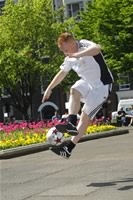 Dan Magness is a world record breaking football freestyler who performs his phenomenal football tricks at events across the world. From balancing a football on the top of his head and rolling it around his face to heading the ball repeatedly whist lying flat on the floor - Dan has got unbelievable football skills and he knows how to show them!
Learning his tricks growing up in Guildford UK, Dan has refined them and put together an amazing, unrivalled football freestyle display. He has performed half time shows for many Premiership football clubs and has appeared in TV commercials worldwide. He has also worked with a number of professional footballers, training them to do some of his tricks. These players include Thierry Henry, Michael Owen, Francesco Totti, Roberto Carlos, Steven Gerrard, Djibril Cisse and Freddie Ljungberg.
In 2009 Dan became the first person in the world to keep a ball in the air for 24 hours without dropping it. This amazing feat was followed a few months later by a gruelling 36 mile walk across London in January 2010, keeping a football up the whole time. Both of these immediately became official Guinness World Records – two more to add to his fast growing collection! In June 2010 he extended his 24 hour record by two whole hours, raising the bar for other freestylers to strive towards.
Dan currently holds five Guinness World Records:
Longest Time Controlling a football on the back
Most consecutive football touches on the shoulders
Most amount of "around the moon" tricks in one minute
Longest time controlling a football (26 hours)
Longest journey controlling a football (36 miles)
If you're looking for a breathtaking, world record breaking, football freestyling crowd puller who defies the laws of gravity every time he kicks a football, Dan Magness is your man!
"It's like he's got keepy-uppy Tourette's!" – Mel C (former Spice Girl)
Media clips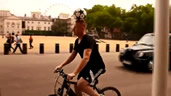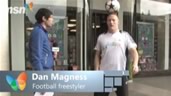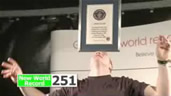 Contact