Top Dog Promotions news
10 May 2014
Two more world records for Dan, on live TV!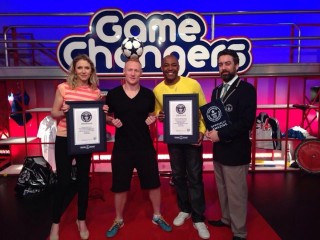 This morning, live on Sky's Gamechangers TV show, Dan managed to break not one but two Guinness World Records!
Under the studio lights, a packed studio audience chanted his name as he attempted to break the first record:
Most rope skips while keeping a football in the air with the head in one minute
He had 61 to beat and he smashed it by skipping 120 times in a minute whilst heading the ball at the same time!
Later in the show he took on a second record:
Most football touches with the shoulders in one minute (male)
The record to beat was 120 touches in a minute. Again Dan obliterated the record by touching the ball an amazing 169 times in a minute!
Officiated by Jack Brockbank from Guinness World Records, both records are immediately registered and added to Dan's impressive portfolio of amazing feats!
Watch this space for news of Dan's future Guinness World Record attempts!
18 December 2013
2013 in review for Dan Magness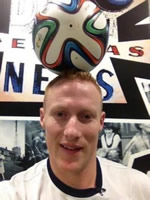 2013 has been an incredible year for Dan Magness as he's performed at hundreds of events all over the world to hundreds of thousands of people. Dan was chosen by Wembley Stadium as their preferred freestyler and has performed at most England home games, the FA Cup Final and the biggest game of the year, the UEFA Champions League Final.
After the success of his TV series Football Freestyler this spring, Dan agreed terms on a second series. Football Freestyler 2 will commence filming in January 2014 and will see Dan travelling to ten new countries, performing and interviewing local football performers whilst getting up to his usual crazy antics! Dan said, "Football Freestyler was such an amazing show to film, so being asked to film a second series is absolutely brilliant! Mixing my two favourite things, football freestyle and TV presenting, and getting paid to do it, is fulfilling a dream I've had for many years."
December saw the launch of the 2014 World Cup football, the "Brazuka" – and what better way to celebrate than getting Dan Magness to perform with it and talk about it on BBC Breakfast TV. Dan performed and was interviewed several times and the feedback on his appearance has been overwhelming with a massive 3200% increase in traffic on his website! Dan said, "It was great to be asked to appear on such a high profile TV show and be asked my opinion on the new World Cup football. The guys on BBC Breakfast are great to work with and hopefully I'll be back on the show before my second series of Football Freestyler is launched in the UK."
14 May 2012
Dan keeps it up from London to Manchester for Unicef
Football freestyler Dan Magness has broken a world record after doing keepy-uppys all the way from London to Manchester!
He now holds the record for the 'longest distance travelled whilst juggling a football'.
Dan walked 200 miles from Wembley Stadium to Old Trafford while keeping a ball in the air - and raising bags of cash for kids' charity Unicef.
It's estimated he did half a million keepy-uppys over his 10-day journey!
17 August 2011
Dan Magness! Epic win or epic fail?
This summer, things are getting epic on Saturday nights on BBC One, as comedian Alexander Armstrong (Armstrong & Miller, Reggie Perrin) challenges some of the nation's quirkier unsung heroes to present their powers to the people in new primetime series Epic Win.
Football freestyle legend, Dan Magness, kicks off the brand new series with some of his gravity defying footie skills.
Other contestants include a man who can read hundreds of barcodes, to high-speed mobility scooter racing, plus men who can identify species of fish just by having them slapped in their face – no challenge is too weird, wacky and wonderful for this show.
Each week these individuals will perform their unique skills in front of a studio audience and a panel fronted by stand-up comedian Micky Flanagan (Mock The Week, Michael McIntyre's Comedy Roadshow, Royal Variety Show) and award-winning new comedian Joe Lycett. Each week they will also be joined by another guest.
Following the "heroic" challenges, each panellist will put a secret cash value on our unsung heroes' talents of up to £1000, making a total jackpot of £3000. The challenger then has to guess how much the panel thinks they're worth, facing an automatic increasing totalizer. If they guess correctly, they get the total amount. If they guess below the amount, they get whatever they have guessed. But, if they over-estimate their worth, they walk away with nothing and exit through the "epic fail" door.
Katie Taylor, Head of In-house Entertainment and Events, said: "BBC In-house Entertainment is proud to bring the UK's unsung heroes and their quirky talents to BBC One's Saturday night audiences in Epic Win. What's not to like about a fishmonger who when blindfolded can identify different types of fish whilst being slapped around the face?"
Speaking after the recording, Magness said, "That was so much fun, it's great to be challenged to something a little bit different!". When asked whether he had an "Epic Win" or "Epic Fail", he replied, "You'll just have to watch and see!"
The series will transmit on Saturdays on BBC One starting 20 August 2011.
3 March 2011
Dan gets vertical for charity
On 3 March 2011 Dan Magness took on the massive Vertical Rush challenge on behalf of homeless charity Shelter.
Dan managed to climb 920 steps to reach the top of tower 42 in London whilst keeping a football in the air. Not only did he achieve this amazing challenge, he also managed it in only 10 minutes 37 seconds, a time which rivalled lots of people who ran it without a ball!
Dan said, "This is a big achievement for me. I'm very pleased to have done it and also to be part of such an amazing project! Well done to shelter and everyone involved."
Look out for more of Dan's amazing challenges throughout 2011.
12 January 2011
Dan Magness keeps it up live on ITV1's Daybreak
This morning Dan Magness was a guest on ITV1's new morning show, Daybreak. After a chat with hosts Adrian Chiles and Christine Bleakley, Dan performed a one-minute show.
Dan was asked to support ITV's drive to get kids active in 2011. Dan said, "I was really happy to be asked to appear on Daybreak. Their prime-time slot to get kids interested in something cool but healthy is right up my street."
Click here to see the video on the Daybreak website!
3 October 2010
LZ-7 hit the UK top 40 singles chart
Top Dog band LZ-7 have today rocketed into the UK top 40 singles chart with their single This Little Light. After one week of sales, LZ-7's first ever single release has landed at a phenomenal number 26!
30 September 2010
Two Top Dog artists make it to 2011 Guinness World Records
Top Dog Promotions are proud to announce that two of their amazing artists are featured in the latest 2011 Guinness World Records (formerly the Guinness Book of Records). Both Dan Magness and Tommy Baker are featured at various points in the world famous book. Between them they hold seven Guinness world records. Dan said, "I am especially pleased to be featured in the book for the second year running as only a very small percentage of record holders get mentioned in the book."
11 June 2010
Hong Kong Phootey - as Dan smashes his own record
Ace Top Dog Freestyler Dan Magness has just this moment extended his own Guinness World Record for the longest time controlling a football, by a whole two hours. It is a testament to Dan's superlative skills that his previous pinnacle of keepie-uppy skill, set in London's Covent Garden in May 2009, stayed intact for over a year. At a star-studded event in Hong Kong's prestigious OlympianCity mall, the ginger freestyler from Milton Keynes kept a regulation football aloft using only his feet, legs, shoulders and head for an epic 26 hours - that's about 270,000 touches.
7 June 2010
Dan raises the shoulder-touch world record
In preparation for the big Hong Kong bid later this week, today Dan Magness smashed his way into the record books once again by obliterating his old record of 251 touches on his shoulders. Live on BBC One's Blue Peter show Dan breezed his way to 340 touches, setting the bar even higher.
Photos ©2010 BBC One
7 June 2010
Dan Magness readies Hong Kong keepie-uppy record bid
Top Dog Freestyler Dan Magness is in the Blue Peter garden today, preparing to fly out to Hong Kong to acclimatise before attempting to break his own Guinness World Record for the longest time controlling a football, kicking off at midday UK time on Thursday. At Covent Garden in May 2009 Dan smashed Martinho Eduardo Orige's long-standing keepie-uppy benchmark, setting 24 hours as the new standard for football freestylers worldwide to aspire to. No-one's matched the achievement since, but not someone to rest on his laurels, Dan hopes to be rewriting the record books once again come Friday afternoon!
5 June 2010
Fireforce's five-star performance at Potters
Top Dog's breakdance crew Fireforce recently stunned some of Britain's most discerning holidaymakers with a live performance at Potters Leisure Resort, the UK's very first five star holiday village. We've got some exclusive photos from the show, and also a sneak peek at Fireforce's great new promo video showreel.
26 January 2010
Dan Magness chalks up longest keepy-uppy journey
Dan Magness has done it again! The Milton Keynes football freestyler and Guinness Keepy Uppy World Champion has broken his fifth Guinness World Record today in an amazing feat of skill and endurance across the streets of the Capital.
Dan set the Guinness World Record for the longest ever recorded journey while continuously kicking or heading a ball, keeping the ball in the air for a staggering 36 miles, as he visited every Premier League football club in London. His journey began at 8am at Fulham's Craven Cottage, and ended fourteen hours later at Spurs' White Hart Lane at 10pm.
At the end of the gruelling journey, an ecstatic Magness said, "This is one of my best achievements yet but there's still plenty more in the locker!" With a number of other world records in the pipeline Dan added, "Watch this space, this record will look small in comparison to the next one that's coming".
1 May 2009
Dan Magness officially the world keepy-uppy king
Top Dog Freestyler Dan Magness has today broken a very special Guinness World Record, smashing Martinho Eduardo Orige's 2003 standard of 19.5 hours for the longest time controlling a football. In a marathon session in London's Covent Garden running from 2pm on 30 April to 2pm on 1 May, staged in association with PlayStation® Freestylers, Dan wiped the floor with the Brazilian's efforts, setting an amazing 24 hours as the new benchmark for football freestylers worldwide to aspire to.
A huge "well done" to Dan, who'll probably have a whole chapter of the Guinness Book of Records devoted to himself at his current rate of record-breaking!
9 April 2009
Freestyle Football 24 Hour World Record attempt in the heart of London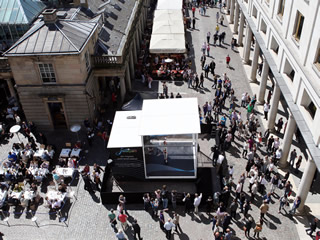 Dan Magness - one of the world's top professional football freestylers has today announced an incredible freestyle football 24 Hours World Record attempt. Taking place in the heart of London, on 30 April 2009, the challenge will be staged in association with the all-new PlayStation® Freestylers initiative. This is an online competition hosted on www.youtube.com/psfreestylers, set up to inspire the next generation of youngsters to get involved in freestyle football.
PlayStation will be constructing a spectacular stage in Covent Garden, London, to hold this extraordinary freestyle record. Kick off will start at 14.00hrs on Thursday 30 April, as Magness attempts to keep a ball airborne throughout the night and into the following afternoon, come rain or shine.
The official Guinness World Record title is called the 'longest time to control a football'. Martinho Eduardo Orige from Brazil currently holds the record which stands at 19.5 hours. If Magness goes on to beat this record by 4.5 hours his management team has estimated this will take him in the region of 250,000 touches.
Twenty five year old Magness, from Milton Keynes, has already started an intense six week training regime to help prepare himself for this gruelling attempt. An Olympian diet (six small meals a day) compliments a marathon style training programme. By the time the training programme is complete Magness will have lost in excess of three stone. The training includes getting up in the middle of the night to keep the ball up for 12 hours, plus 15 mile runs immediately followed by six hours of non-stop 'kick-ups', keeping a ball airborne.
Magness explains, "Freestyle football has been my life since I was 11 years old, and I have been a professional freestyler for six years now. Since making this my fulltime profession the 24 Hour World Record has always been my dream. If I can break this record and help PlayStation attract new people to get involved in freestyle football, it will mean all the hard work has been worth it!
"It really will be tough. If I have a millisecond lapse in concentration – all the training will count for nothing. Keeping focussed will make or break this record attempt."
Magness added, "It's great to see PlayStation pushing the sport forward by encouraging more youngsters to get active. I'm really looking forward to watching the skills of the young freestylers on the YouTube site and hopefully witness some brand new tricks. As freestyle football is a fast growing sport, and with such an amazing prize for the winners on offer, I'm certain the standard will be very high."
Magness is one of the judges of the PlayStation Freestylers online competition to find the best young freestylers in Great Britain. Magness will join the national winners, as they head off for a live European Final, taking place in Italy. The overall winner will be whisked off to Rome's Stadio Olimpico to become the official ball carrier at this year's UEFA Champions League Final (27 May, 2009), with all the finalists rewarded with tickets to watch football's most prestigious Final in Europe.
Magness and PlayStation are inviting male and female freestylers between the age of 13 and 16 to enter by sending a video clip of their freestyle skills to the website www.youtube.com/psfreestylers. The competition is now open with 10 May 2009 set as the closing date for entries.
For more information about Dan Magness' World Record attempt or PlayStation Freestylers, please visit www.youtube.com/psfreestylers.
17 February 2009
Tommy Baker's Guinness World Record spree
Riding on the great success of last year's NBA event, Top Dog Freestyler Tommy Baker was invited to perform once again at the Jam Session 2009, this year based at the Convention Centre, Phoenix, Arizona. The Jam Session visits a different US city each year for the main All-Star Weekend event, when the top basketball players in the USA play exhibition games broadcast on TV worldwide. As part of the entertainment the NBA Jam Session hosts a Guinness World Records event, with gifted individuals like Tommy selected to set new world records and attempt to break existing ones.
On 15 February Tommy set his first two new world records:
The longest time spinning one basketball on top of another using one hand only - 32.88 seconds
The most arm and head rolls combined using three basketballs - 10 in a row
On 16 February Tommy set his third world record:
The most headers with a basketball whilst spinning two other basketballs on his fingers - 40 headers
All three records were authenticated by Stuart E. F. Claxton - US Business Development Manager for GWR, New York office.
17 December 2008
More Guinness World Records for Dan Magness
On 4 December 2008 Dan Magness became a triple Guinness World Record holder at an event hosted by Sony in Turin, Italy.
At the launch of the Sony Bravia Motionflow TV commercial in Turin, Italy Dan was tasked with the massive responsibility of breaking three Guinness World Records.
First of all Dan attempted to break his own existing record for longest time longest time controlling a football on the back (was 2 minutes 31 seconds). He smashed it, clocking an incredible 3 minutes and 10 seconds!
Second he attempted to break a very popular record for the most football rolls across the forehead, which was set only 1 week before this attempt at 56 rolls. Dan also smashed this by recording an astounding 188 face rolls!
Last he set a brand new Guinness World record for the most number of touches keeping a ball in the air using only his shoulders. Guinness set a minimum of 50 to beat. Dan finished the day in style by totalling a colossal 251 touches!
Congratulations to Dan!
24 October 2008
Free-runner Ryan Doyle now available to book
Spectacular world champion free-runner and extreme martial arts guru Ryan Doyle is now available to book through Top Dog Promotions. Check out his profile for more photos and to see how Ryan could help propel your event to another level with his breathtaking aerial tricks.
30 April 2008
Dan Magness smashes Guinness World Record
Top Dog Freestyler Dan Magness has established a new Guinness World Record, for the longest time controlling a football on his back. On 30 April 2008, at the press launch of the Bank Asya 1.Lig Turkish football league in Istanbul, Dan bounced the ball 100 times in 2 minutes 31 seconds, smashing the previous record of just 27.7 seconds.