Fireforce
Breakdance crew
Details | Media clips | Contact us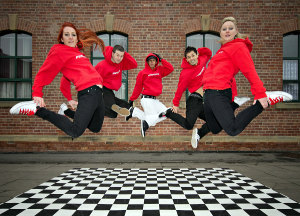 Firefly's team known as Fireforce are an elite group of the UK's hottest break dancers who will bring an exciting urban edge to your event. Based in the North of England, they travel all over the UK and the world providing incredible high energy shows.
All Fireforce dancers are highly experienced, reliable and professional. They deliver a combination of exciting flips, tricks, footwork and funky fresh moves, to the highest standards which makes them outstanding performers and will guarantee to mesmerise any audience!
Clients include Nike, Sony, Kelloggs, Selfridges, Christian Dior, Budweiser, Foot Locker, MTV and many more.
Media clips
Contact us